About us
A & S Förderanlagen is an experienced medium-sized company for mechanical-engineering situated in the Münster region of Central Germany characterized by individual solutions, flexibility and reliability. For more than 25 years our staff of 10 employees successfully constructs and produces special machines and plants for conveyor systems on behalf of customers of most different industrial areas e.g. the chemical industry, the cement industry or breweries.
Our product range covers among others:
Shut off slides
Bucket elevators
Double rotary valves
Belt conveyors
Screw conveyors
Belt conveyors
Pneumatic conveying troughs
Trough chain conveyors
Rotary valve feeder
We deliver furthermore pipelines, vessels and steel construction as well as all kinds of sheet metals following workshop drawings.
Our customers hereby appreciate:
High quality and reliability
Customerspecific adaptations and special solutions
High functionality
Robust machine construction with state-of-the-art components
High level of vertical manufacturing with modern machines
Use of high-class brand components
Fast services, also with spare parts and individual parts
Our first priority is to meet customers' wishes. Just test us!
SERVICE
A&S conveyor plants render an entirely harmonious package of service with:
Individual planning
Accurate adjustment on plant concepts
Delivery and transportation
Assembly and start-up
Repair service
Service for replace parts
Maintenance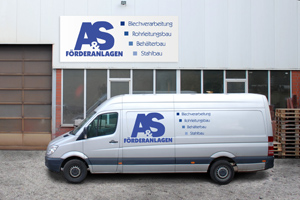 Test us!